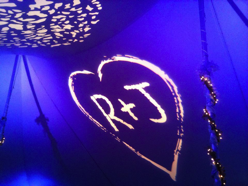 What is a gobo and how does it work?
Custom gobos (sometimes referred to as monograms) look great on a wall or dance floor, and you can design them to look however you want.
A gobo is a small, round piece of metal or glass that has your design carved into it. The gobo is placed inside a projector, which shines onto a wall, floor, or other surface.
The projector I use is mounted on a tripod stand, so please keep that in mind when deciding your layout and floor plan.
Pricing varies based on the complexity of your design and whether your gobo is made of metal or glass.
Please
request a price quote
for an idea on how much it will cost for your wedding.
The top picture shows a custom gobo projected on the ceiling of a tent. My clients used uplighting and a ceiling wash to illuminate the tent.

The bottom picture shows a custom monogram projected onto the dance floor. I used a glass gobo for cleaner looking letters and finer detail.